1. OUR MISSION
| | | |
| --- | --- | --- |
| | 1-1. | Prompt help for a patient and/or the family of a patient who is injured through an accident or malpractice in health care delivery. |
| | | |
| | 1-2. | Prevention of any recurrence of medical malpractice, pursuit of medical excellence, improvement of the health care system, and establishment of patients' rights by examining and learning from past medical accidents. |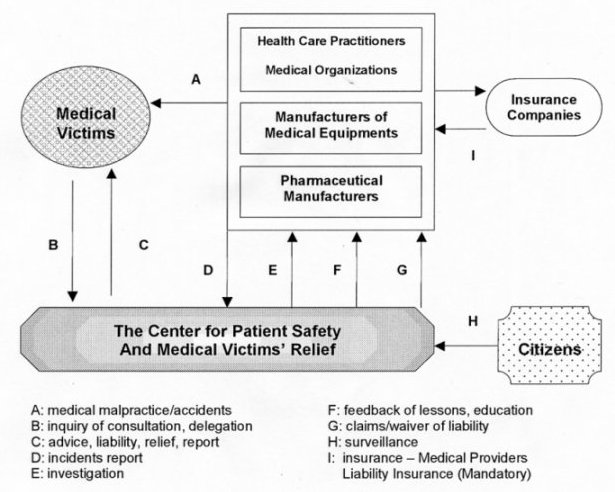 2. PRINCIPLES
| | | |
| --- | --- | --- |
| | 2-1. | Accessibility |
| | | An injured patient and/or his/her family can contact the Center for a consultation at any time by telephone, fax or other means of communication. Anyone else in the medical community is free to express their concerns or provide information about medical accidents or conditions in an open dialogue. |
| | | |
| | 2-2. | Prompt relief (within three months after the initial contact) |
| | | A jury system will investigate and judge each case, carefully discussing the opinions provided by the registered specialists. |
| | | |
| | 2-3. | Fairness and openness in assessment |
| | | In all cases a jury will be convened to make a judgment. Patients or their families are allowed to observe the deliberations and judgment. The meeting's minutes may be open to public, again always keeping the patient's anonymity. |
| | | |
| | 2-4. | Disclosure of information |
| | | The Center's Internet homepage is accessible from anywhere and by anyone, thereby increasing people's awareness about the Center and the issues it deals with. Other information will be available through pamphlets, newsletters, and lectures. |
| | | |
| | 2-5. | "Learning from mistakes" to improve quality of medical practices |
| | | All pertinent and relevant information will be collected, analyzed, and discussed. This information will be shared with medical educators, health care providers, and medical manufacturers as we work together to "learn from mistakes" rather than "cover up mistakes." |
| | | |
| | 2-6. | Participation and surveillance by citizens |
| | | Citizen surveillance and participation, as regulated by legislature, will be an integral part of the Center's operation. An attitude of "Leave everything to the doctors" cannot change the current health care system to a patient-centered one. In order for the Center to play a vital role, it is necessary for the Center to have an active and routine surveillance by the general public as well as a well-scrutinized blue print before its launch. |
| | | |
| | 2-7. | Waiver of litigation |
| | | Patients who receive compensation as a result of the Center's decision waive all right to future litigation. |
| | | |
3. STAFFING
3-1.
Team for reception and consultation:
 Counselors + psychiatrists
3-2.
Team for reviewing and assessing cases:
 Registered physicians + jurors
 (Providing medical advice to the jurors as they review cases.)
3-3.
Team for studying and applying lessons to improve medical practices and educate health care providers:
 Instructors
3-4.
Team for managing, applying and remitting compensation:
 Financial members
3-5.
Team for claiming compensation:
 Independent attorney
 (Filing a claim, mediating to the Bar Association, or submitting claims to the Arbitration Center)
3-6.
Team for public relations:
 (PR for the Center's activities)
3-7.
Team for planning policies:
 (Planning effective measures for safer and higher quality medical practices)
4. ORGANIZATION
4-1.
The Center is a special public corporation founded by the legislature, and is vested with the authority to investigate all cases brought to its attention.
4-2.
Patients and citizens hold a majority in the Center's board of directors.
The Center's organization will reflect the opinions of medical service recipients such as "Iryo-Kago Genkoku-no-Kai" (The Association of the Medical Malpractice Plaintiffs).
4-3.
Employment at the Center is basically open to public.
4-4.
The Center will consider splitting and restructuring the existing "Organization for Pharmaceutical Safety and Research (OPSR)" as well as the possibility of cooperation with other related non-government organizations such as the Consumer Center.

The existing OPSR is an affiliated association of the Ministry of Health, Labor and Welfare, where all staff are on lease from the ministry. Many of the directors are pharmaceutical manufacturers. The OPSR should involve representatives of a medical consumer group and/or a patients' group who could take a more active role in its management.
5. FINANCIAL SOURCE
5-1.
Subsidies from National and Local Governments
5-2.
Contributions from National Health Insurance Program, combined with a percentage of patients' co payments for medical expenses
5-3.
Payments by health care providers and health care corporations
5-4.
Payments by pharmaceutical and medical equipment manufacturers

Pharmaceutical manufacturers now make payment to the OPSR. If the OPSR is restructured, pharmaceutical manufacturers should also make payments to the Center for compensation of pain and suffering caused by drug side effects.
5-5.
Awarded compensation from the defendants
5-6.
Donations
6. POLICY ON RELIEF: HOW THE CENTER WORKS FOR YOU
6-1.
The Center will compensate any patient whose health was compromised by medical practice. (For those patients whose health problems are ongoing and sustained, payments will be made through an individually designed pension plan.)

The Center's goal is to provide relief for as many patients and their families as possible. Under current medical malpractice law, unless negligence is proven on the part of the medical providers, damage claims cannot be awarded. Testimony in negligence case is involved, lengthy, and the whole process is often very slow. The current system of where awards are only made for flagrant malpractice and nothing for victims of substandard care leaves many people believing the whole system is arbitrary and unfair. The Center will award compensation for serious injury regardless of whether the harm was due to the medical practitioner's error or an unintentional consequence of treatment.
6-2.
The Center will award compensation based "whether or not the effect is extraordinarily unusual.

Compensation excludes any cases of death caused by disease itself. We acknowledge it can be difficult to judge whether a patient who suffered from a serious disease died of that disease or possible malpractice. However, the jurors need not have a scientific or medical background. The twelve jurors will decide whether or not the Center should compensate a case based on their "common sense" or "citizen sense" of fairness. For example, a case of a pregnant woman who died in delivery might be judged as due to heart attack (proven by autopsy) and not to her physician's performance.

Any decision will be made by consensus of the jurors. For every new case, the jurors will be selected at random from the list of public voters whose ages are at least forty and not more than sixty. The jury team will consist of twelve jurors. Hundreds and thousands of teams can be formed in a city. The injured patients can appeal the Center's decision.
6-3.
The Center will consider any claims for any amount of compensation. (The Center may limit its relief activity to only serious cases during its start-up period.)

Currently many victims acquiesce in their mistreatment rather than face the challenges of lengthy litigation. The Center's jury system will be cost effective as well as time effective, thereby enabling the Center to easily redress such cases. The more the Center can compensate these victims, the more society, as a whole will benefit. Why? Because the earlier the Center collects information, the more it gets ideas or "suggestions" for reducing the recurrence of the accidents, thereby contributing to medical excellence and a safer health care system. As the Center helps victims, it can continue to collect more and better information, thus protecting many future victims, allowing the Center to meet its goals.


The above three ideas (6-1, 6-2, 6-3), in their purposes and backgrounds, are very similar to the Laws of Automobile Reparation Obligation which aid traffic victims and the Product Liability Law which protects consumers from injury by products.

6-4.
The Center may file a claim of medical malpractice (representation of claims) for a case that the health care providers fail to deliver an appropriate medical practice. The Center may however lessen or exempt claims if the following three conditions are satisfied:



| | | |
| --- | --- | --- |
| | ・ | They have followed best practices on daily basis, |
| | ・ | They promptly apologize to the victim, clearly and completely explain the circumstances of the accident, and report their malpractice or accidents to the Center (before the victim files the claims), and |
| | ・ | They sincerely plan and practice their improvement measures to prevent any further malpractice or accidents. |


For example, a physician who has cautiously practiced so far and made a careless mistake may be treated differently than a physician who has been always careless and made repeated mistakes.

I hope this policy will help people realize the importance of cautious performance on daily basis, will help the health care providers change their attitudes toward their responsibility, and will eventually contribute to creating a patient-centered health care culture, thus assuring a safer medical system and medical excellence.

7. CONCLUDING NOTE
The medical malpractice case that inspired me to create the Center involves the case of a seven-year-old child who had an appendectomy. Spinal anesthesia caused brain damage leaving him (her) an invalid. This case won a dramatic suit at the Supreme Court after twenty years of litigation. His (Her) parents nursed him (her) all the while they fought that battle. I believe we should have a system that gives prompt relief to medical victims, especially those who are seriously damaged. I also believe strongly in the necessity of an effective system that draws lessons from medical accidents. Health care professionals need quality feedback in order to substantially reduce the likelihood of similar accidents in the future.

The mass media has paid much attention to this plan so far, and I have received many opinions and ideas from all over the nation. I have been encouraged by the health care providers who show strong support for this plan. In addition, I keenly feel the crying needs of many victims and their families who have informed me of their unfortunate experiences. I originally proposed this plan hoping that the Center would be launched in ten years. However, now I'd like to do my best to realize it as soon as possible.

My next step is to organize a preparatory group such as a "Committee of Promoters," or a "Committee of Developers." I will continue to discuss and examine this plan more in depth. I'd like to run a test of the Center's jury system using past medical cases.

This plan is "a draft." I solicit your ideas and opinions about a system for patients' safety and relief for medical victims.